<Previous issue | Next issue> | Archive

Volume 13 (3); September 25, 2023
---
Research Paper
Investigation of the Physical and Mechanical Properties of Metabentonite and Slag-based Geopolymer Mortars

Şahin F, Aladağ C, and Uysal M.

J. Civil Eng. Urban., 13(3): 33-41, 2023; pii:S225204302300005-13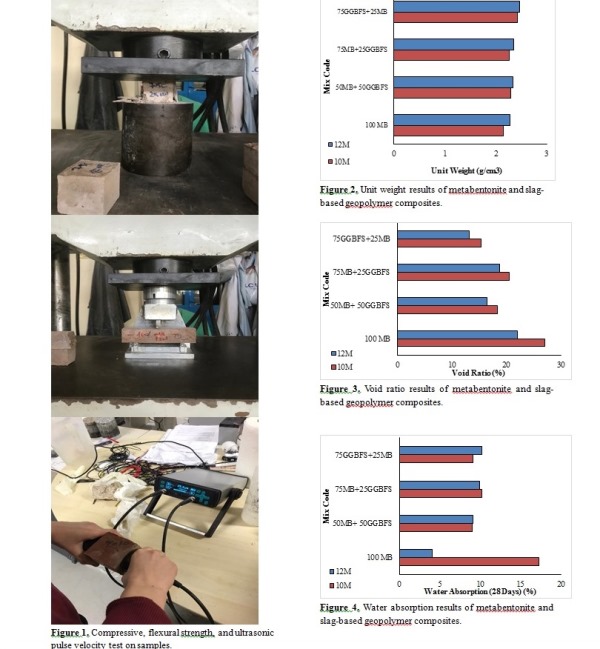 DOI: https://dx.doi.org/10.54203/jceu.2023.5

Abstract
With population growth and industrialization, fly ash accumulates in ground blast furnace slag and other industrial waste landfills. Since these wastes are the main source of pollution, they are harmful to the environment, but in the production of geopolymer mortar or concrete, these solid wastes are recycled and added to the system. In this study, metabentonite (MB)-slag-based geopolymer mortars, which are formed by calcining bentonite clay with by-products such as blast furnace slag, were prepared. In this context, bentonite was transformed into metabentonite by calcining at 900 °C. In the study, geopolymer mortars based on metabentonite-ground granulated blast furnace slag (100 MB,75 MB+25 GGBFS, 50 MB+50 GGBFS, 25 MB+75 GGBFS) and containing recycling aggregate as fine aggregate was produced in five series and physical (unit weight, water absorption and void ratio) and mechanical tests (compressive and flexural strength, ultrasonic pulse velocity) were carried out on the 7th and 28th days. The conclusions showed that although the highest strength was obtained in the series containing 75 GGBFS+25 MB, remarkable physical and mechanical properties were obtained for the series containing 75 MB+ 25 GGBFS in both molar concentrations, and an environmentally friendly and economical geopolymer composite design could be formed.
Keywords: Geopolymer, bentonite, physical properties, mechanical properties, sustainability.

[Full text-PDF] [ePub] [XML] [Export citation to RIS & EndNote] [How to Cite]
---
<Previous issue | Next issue> | Archive
This work is licensed under a Creative Commons Attribution 4.0 International License (CC BY 4.0)