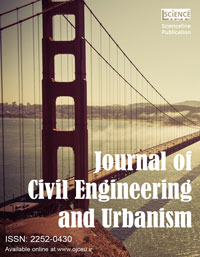 J

ournal of

C

ivil

E

ngineering and

U

rbanism
ISSN: 2252-0430

Editors-in-Chief:
Dr. Kianoush Zaker Haghighi, IRAN


Indexed/covered by Crossref, Ulrich's™ Web, ProQuest, ISC(RICeST), NSD, IndexCopernicus, EZB, TOCs, TIB, Google Scholar (i10-index=17) (view index information)

Open access full-text articles is available beginning with Vol. 1 Issue 1.
The journal is in compliance with BOAI.
Copyright & Publishing Rights Policy.
Publisher Item Identifier ...details
This journal encourage the academic institutions in low-income countries to publish high quality scientific results, free of charges...view Review/Decisions/Processing/Policy
Board Member Certificate: JCEU active members were Dr. Ali Mashhadizadeh Roveshti, Dr. Amir Ghatefar...

details...
JCEU submission & acceptance rates

Year

Submission

Acceptance

2012

58

42 (72.4%)

2013

83

59 (71%)

2014

138

90 (65.2%)

2015

68

35 (

51.4

%)

2016

24

13 (54.1%)

2017

34

14 (41.1%)

2018

19

11 (57.8%)

2019

20

9 (45%)

The estimated time from submission to reviewer decision is 3-4 weeks
Frequency: Bimonthly

Current Issue: 2020, Vol:10, No:4 (July 25)

Publisher: SCIENCELINE

Journal of Civil Engineering and Urbanism (JCEU) is an international, peer reviewed journal aim to publish the high quality material from civil engineering, urban and regional planning areas...view aims and scope
TABLE OF CONTENTS
---
Historical Water Conveyances to Aphrodisias and the Yeşilköy-Kayapinar Water Tunnel.

Daneshfaraz R and Alkan A.

J. Civil Eng. Urban., 10(3: 32-34, 2020; pii:S225204302000005-10
DOI: https://dx.doi.org/10.29252/scil.2020.jceu5
Innovative civil engineering applications of smart materials for smart sustainable urbanization.

Noori M and Narjabadifam P.

J. Civil Eng. Urban., 9(4): 24-35, 2019; pii:S225204301900004-9
DOI: https://dx.doi.org/10.29252/scil.2019.jceu4
---
Physico-Chemical Characterization and Ground Water Quality Assessment in Selected Area of Uvwie Local Government in Delta State, Nigeria.

OIkebude Ch.F. and Onovughe E.I.

J. Civil Eng. Urban., 9(3): 17-23, 2019; pii:S225204301900003-9
DOI: https://dx.doi.org/10.29252/scil.2019.jceu3